Fashion brands looking for exposure might be put off by the expense of a catwalk show. But did you know that there are alternatives that are proving more and more popular with even the biggest brands? Would it sound even better if they were cheaper alternatives too?
In this blog post I want to talk about Static Presentations [also called Static Shows] as a cheaper marketing tool for your fashion brand, without compromising on style or effect.
We'll cover what they are, how they work and the options you have for your budget, so that by the end of this post, you'll be able to put on a great Static Presentation that brings in the press and sales you want.
WHAT IS A STATIC PRESENTATION
So firstly, what exactly is a Static Presentation?
A Static Presentation has the same effect as a catwalk show, but is far more up close and personal. All of the garments are presented like an art gallery display and can either be on models, mannequins, dummies or any other way you want to show them off.
The idea is that press and buyers can get close to the garments and really see the detail and quality, just like a piece of art. All of the garments are on display throughout the event, although they are usually "revealed" in some type of way. If you have real models, this could be walking into the display area, or if not on models, you could have a curtain call or some other BIG reveal for the collection.
STATIC PRESENTATION TRENDS
With more and more brands creating diffusion lines and more collections per year, the cost of putting on a huge production style catwalk show for every single one becomes extremely costly.
For Pre-Fall and Resort collections [additional seasons that are in between the SS and AW fashion weeks] all designers use a Look book style presentation rather than a large scale event. These are basically a photoshoot of the collection that is sent out to the media and buyers.
But in the last few years, more and more brands have been choosing to use different options instead of the traditional catwalk shows in the main Spring Summer and Autumn Winter Fashion Weeks. Some have even chosen to do both, like Calvin Klein's SS16 collection where he put on a traditional catwalk show during New York Fashion Week and did a presentation style Static Presentation during Milan Fashion Week. Opting for mannequins hanging from the ceiling rather than real models to provide a truly gallery styled art display.
WHY A STATIC PRESENTATION?
In terms of your own fashion brand, there are many reasons to do a Static Presentation.
The first, as I've already mentioned, is cost. Or at least it can be. The location you choose, models, make up, hair, lighting etc are all variable costs that can be as cheap or pricey as you like.
The good news is that if you don't have Calvin Klein's budget, you have various options that will make them cheaper. Far cheaper than a traditional catwalk show, which I'll cover in a minute.
The second reason is that Fashion Week in any location is a really busy time for press and buyers. With a Static Presentation you can have a longer period of time to show off your products and allow both the press and buyers to attend when they can. The time factor provides a little bit of flexibility to them and hopefully will generate more sales for you.
The third reason is that since these type of shows are more and more frequently used by big brands, the stigma that may have existed 10 years ago about not being able to afford a catwalk show, no longer exists and better still, hasn't existed for a long time. Buyers and press no longer snub these types of events. These days, they expect them.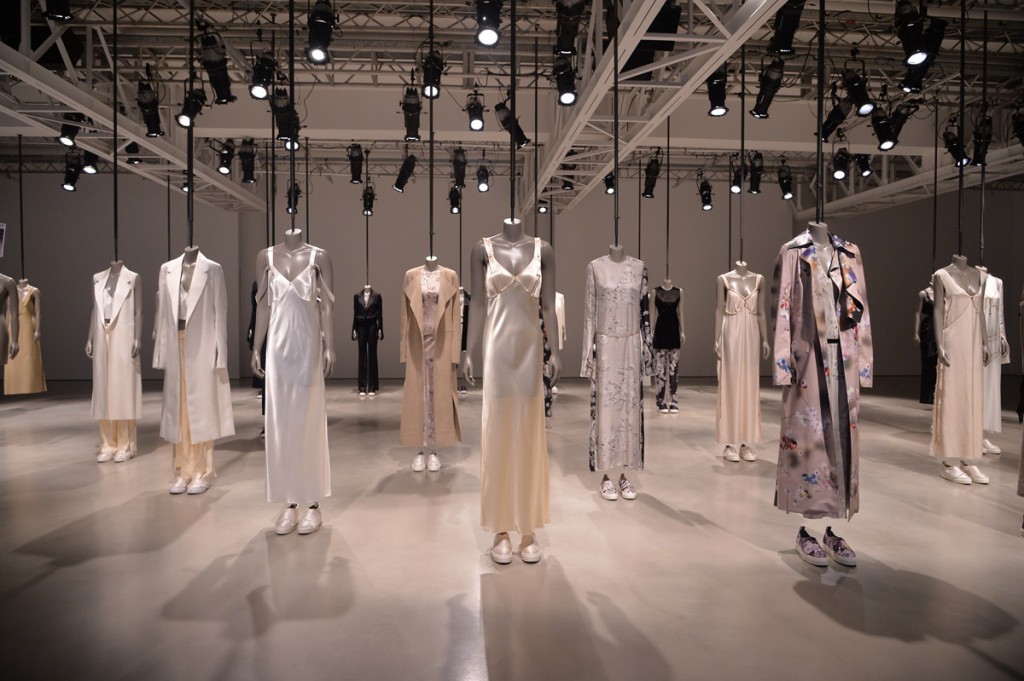 OPTIONS FOR COST CUTTING
OK so cost cutting. Whatever event you decide to put on there are things you will need to pay for. However with a bit of creativity, you will be able to half your outgoings during a Static Presentation compared to a catwalk show. So let's cover a few of those.
MODELS
So you can of course have real people showing off your products if your fashion brand creates clothing. In terms of money, you'll be paying per model, per hour. But you will also need to have a make up artist and her team, plus a hair stylist and her team and a number of staff that will help the models get in and out of the clothes during the set up and break down [end of ] the show.
Swapping to mannequins or dummies, remove the cost of hair and make up, plus they can be dressed by half the amount of people since you have more time to prepare.
I'm also going to assume you won't have that amount of dummies just lying around your studio, so the other great cost cutting tip is that you also have the option to hire them for the event.
If you want to supercharge your cost cutting, you could also opt to do something completely different and use hangers or the 3D plastic display forms that are used in retail. These come in a huge range of sizes, body parts, styles, colours and prices
HAIR & MAKE UP
If you are planning on using people then you can't get around having some type of hair or make up. With mannequins you can remove these costs altogether.
However the only options you may have to cut cost here is to get creative. Wigs? Masks? Local salons or hairdresser that might want to show off their skills and do it for free in return for advertising?
In terms of success, you really only need to make sure that everything works with your brand.
ACCESSORIES
For people, you generally need shoes at the very least. However there are no rules. So does your collection allow for removing shoes? What about covering the "display" area floor in something like fur or leaves instead? Maybe collaborating with a shoe designer to provide shoes for free and additionally help with advertising the event for their own collection? If you're a shoe designer yourself, then find a great fashion designer to collaborate with.
If mannequins are your choice, then you can cut this option off your list also. No need for shoes if the mannequin doesn't have feet…. Or you can still work with a shoe brand and add the shoes in like Calvin did.
COLLECTION
Remember this…. It is an event rather than a catwalk show!
This means that having too many full outfits will distract people and buyers and press will miss out on your design detail. During a fashion show, you'll need more to fill up time and the average amount is around 32 outfits.
When you are doing a Static Presentation, you need to display all of your products clearly, but not overwhelm. So in terms of volume you want to do around 12 -20 outfits. Anymore will definitely be too much. For accessories, you can have a few more but again you want to focus the attention on key pieces.
This all means that you can concentrate funds on fewer, but really special designs.
LOCATION AND SET UP
Well there are a few things here.
Firstly you're not housing all attendees all at one time, or seated, so the space you will need will be much, much smaller.
Secondly it also means you don't have to hire the seating itself.
Third. It is an event, so if you're cleaver, you could come to an agreement with a hotel, bar, restaurant or even a fairground to hold your event there for free in return for the advertising, or supplying a drink or two per guest. This will cut down hiring space and also moves me nicely onto number four.
Forth. You're not limited to large catwalk sized locations so you have a much wider choice in where your Static Presentation can be held.
Fifth. In addition, you could also save cash on display and decoration by choosing somewhere that fits the collection you have created and is as ornate or simple as you need it to be. As well as cost, you'll be able to cut down your time dressing the room appropriately.
If you do need to decorate, the quickest and most cost effective way is getting a landscape or photo, printed onto card or fabric and hanging it as a background. Donna Karen does this frequently with shots of a yellow taxi amongst the buildings of New York for her catwalk shows. It compliments her brand and looks really effective.
FINALLY….
So far, we've covered what Static Presentations [or Static Shows] are. The increasing trends for Static Presentations with big designers and finally the benefits to you as a fashion brand and how they can be a great alternative to putting on a catwalk show
[wc_fa icon="cogs" margin_left="" margin_right=""] Action Steps:
Now I want you to take action. If you're reading this post, hopefully you are thinking about presenting a collection, or maybe just planning for the future.
If you have a collection designed, I want you to search for 5 great locations that would suit the mood of your collection. Look at what they offer and see which one would be great for your budget and your brand.
Now talk to them and get emailing!!!
P.S
If you want more information on building your fashion brand, then join our weekly Brand Building Email Family by clicking the image below.

PICTURE CREDITS:
Main Picture, Calvin Klein Presentation Milan SS16
http://www.designscene.net/2015/10/mfw-calvin-klein-collection-ss16.html
Rachael Zoe AW15 from Instagram thezoereport