So you've worked hard to get a new job or start a fashion brand and now you need to make the products you've designed. If you're confused about Tech Packs for clothing and Spec Sheets, don't worry! In this post I'm going to explain everything you need to know and by the time you have finished, you'll be armed with the correct technical lingo, information and background to impress a boss, or talk to a factory about your products.
WHAT IS A TECH PACK?
Over the years I've worked for suppliers, retailers and for clients, I've created nearly 8000 Tech Packs personally and many more with my team, so I believe I can help you with this question.
A Tech Pack, or Technical Pack, which is their full name, is a blueprint, or set of instructions that you give to a factory. It contains a mixture of drawings, measurements and technical information, which tells a factory exactly what you want them to make and how exactly, you want your design to be sampled or manufactured into a piece of clothing.
Although Tech Packs for clothing are usually mentioned on the internet, it's important to mention, that actually, they can be used to create accessories, jewellery, luggage, bags, hats, shoes …… basically anything. On the whole, they are pretty much the same layout for each type of product, but there are differences in the terminology, depending on the machinery and materials needed to make each product.
A basic Tech Pack consists of 3 pages, but can also be extended to include a sampling sheet [below left] or depending on the additional techniques, processes and details you want to add to your design. So for example, if you are adding a print, you will also need to add pages to show the print artwork with instructions for the type of print. This would be the same for embroidery, labels, back neck tape and so on. So actually, your Tech Pack can be fairly big if you have a lot of things to explain.

WHAT IS A SPEC SHEET?
In the last paragraph, I mentioned that a basic Tech pack is made up of three pages. A Cover Sheet [Top image left], Spec Sheet [Top image right] and Grading Sheet [above image right]. So at its most simple, a Spec Sheet is a specific page inside a Tech Pack.
A Spec Sheet is the most complex and detailed sheet out of the three pages. It's the page that does the hard work and really explains everything to a factory which makes sure you get you product back correctly. It includes
A Flat Drawing, which is technical drawing of your product
Measurements for your sample
Technical information about fabric, machinery, trims, colours and anything else you are adding to your design.
These three things don't really sound like much, but actually, this is the page that requires some experience and knowledge.
FLAT DRAWING
A Flat Drawing is a technical drawing of a garment that is done in a very specific way. The line weights mean different things and there are a lot of rules around how they have to be laid out and what you can and can't do. Unfortunately, when I look through the internet, there are far more examples of bad Flat Drawings, than there are good, which spurred me to write a book about Tech Packs, How to Create Tech Packs for Fashion. It explains all of the details on Flat Drawings, that there isn't time to discuss properly in a blog post. But if you are looking for good examples of flat drawings, the ones in this post are of course, done to retail standards. You'll notice there is no styling, or illustration effects. They are simple, without fabric fills or textures. They have very little writing or text and purely focus on the technical information, like stitching and seams and lastly, make sure that the measurements are clear.
MEASUREMENTS
Then we have measurements. Well, as I mention in my book, measurements are a little more complex than just copying charts off the web. Fabrics for example, can change the measurements you need dramatically as can the market you are designing clothes for and the use of the clothing you are designing.
Think about getting dressed, for a moment. Let's say you're a UK 12, and you go into your favourite shop and buy your undies in a 12 and your coat in a 12. When you get dressed, your coat has to fit over you, plus your underwear, plus a top or jumper, whereas your pants [knickers for my US friends] just have to fit over you. If you tried the other way round, I doubt your pants would fit over you and all of your clothes, unless you're superman, or you buy really big pants….. I'll just leave you pondering that for a moment…. The point is that there are different measurements for different garments, even though they fit the same person, so there is a quite a bit to measurements and how you adapt them to suit the product, market and fabrics you use.
People across the world are different. Just take a look around next time you're walking down the street [although try not to do it in a creepy way]. The bits that are heavier, shorter, wider, taller, slimmer or narrower are all based on genetics and where we came from and the diets we eat. If you're designing for people in the US, then the standard measurements will be different to the UK, or Africa, India and Asia. Measurements change across the world, as do the way that body types put on weight, so you also need to be aware of the people, or 'market', you are designing for.
TECHNICAL INFORMATION
The third part of a Spec Sheet, is the technical information. This refers to colours, fabric information, machinery, trims and any techniques you need for your clothing design. Again, like measurements, techniques and machinery depend on the fabric you choose for your product. With stretch fabrics, you'll need an overlocker, whereas woven fabrics can use a sewing machine, although that depends on the seam or stitch you want to use. Fabric finishes can alter techniques, since shiny fabrics may snag with some stitches and stiffer fabrics might need a reinforced stitch for heavy duty use. Knitwear is another topic altogether. The machinery used for knits, needs gauges and tension settings as well as yarn weights and ply, rather than fabric, and use a linker to attach seams together….. confused yet? Well that's before you get into additional techniques like printing and embroidery…
OVERWHELMED?
Now that we've covered Tech Packs and Spec Sheets, as well as their three specific areas of information [Flat Drawings, Measurements and Technical Information], you'll be armed with some technical terms, knowing the difference between Tech packs and Spec Sheets, as well as a few additional details about clothing and production, but I will never lie to you….
Tech Packs and Spec Sheets are complex. Yes, they can be daunting. There is a lot to consider, more than I can list in a blog post, but really, it's a question of finding the correct information and discovering it through experience. There is no silver bullet to creating a Tech Pack or Spec Sheet, although many people will promise you there is. If you buy a template, then you'll have a template for 1 product, in 1 fabric, for 1 market of people. Knowing how the fabric, measurements and details work together and more importantly why, will be the thing that actually helps you progress.
I never like promoting products, but in this case, I truly believe it will be helpful. I mentioned previously, that I wrote a book on How to Create Tech Packs for Fashion, which covers all of the topics I have written about here, plus many I haven't. If you want to cut down the time it will take to discover all of this information on your own, then feel free to buy a copy. I would be extremely grateful and happy knowing that it is helping you on your journey. But if not, the good news is that it will come with time and experience and now that we've talked about the difference, you can still leave this post understanding the difference between Tech Packs and Spec Sheets.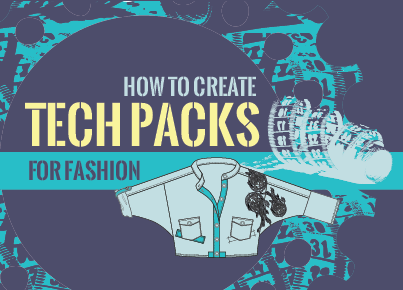 WANT TO KNOW MORE?
How to Create Tech Packs for Fashion
Understanding how to create a Tech Pack is a key part of the manufacturing process and something that is only learnt through experience. After personally creating 7,832 Tech Packs, building 2500 fashion brands from scratch and helping over 8000 clients with my team, I'm writing a book that will finally give you the experience and knowledge that I have learnt over 20 years in the fashion industry.
In this 260+ page E-Book, you'll not only discover accurate, Retail Standard, helpful information….. you'll master it. Including:
Factory and production options to suit each type of fashion brand and their manufacturing quantity.
The sampling process that all products should go through, from Tech Pack to mass manufacture.
How to create Flat Drawings and their special graphical language.
How to find, alter and apply Retail Standard measurements for your products.
What is on each page of a basic Tech Pack and how to create each page yourself.
How to expand Tech Packs for different products, such as design details, labelling, prints, embroidery and embellishment artwork and much more….
To find out more and take a look inside the book, click HERE for more details.