Out of all of the questions I get asked, manufacturing and production topics are the most frequent and repetitive. The sampling process and how to work through it, is the most popular topic of them all.
If you're currently working through your sampling process, then something you will need to know about, is a 'Size Set' and by the end of this post, you'll know all about what they are and why you need to ask a factory for one.
WHAT IS A SIZE SET?
A 'Size Set' is actually as it sounds, although it might not be obvious at first. It's a set of sizes that a factory provides you, of your design.
When you ask a factory for a Size Set, [we'll talk about when to ask for one, later in this post] your factory will send you samples of your design, in every size that you are going to produce. So if you plan to manufacture your design in a XS, S, M, L and XL, then they will send you those 5 sizes. If you ask for a 32, 34, 36, 38, 40, 42, 44 and 46, then they will send you these 8 sizes.
WHY DO YOU NEED ONE?
The sizes that you receive for every garment, will depend on what you have asked for and the measurements you provide the factory, in your Tech Pack. If you're not sure what a Tech Pack is, you can find out HERE. Usually in a Tech Pack, you will provide a Grading Sheet, like the one below, that lists the measurements per measurement, per size.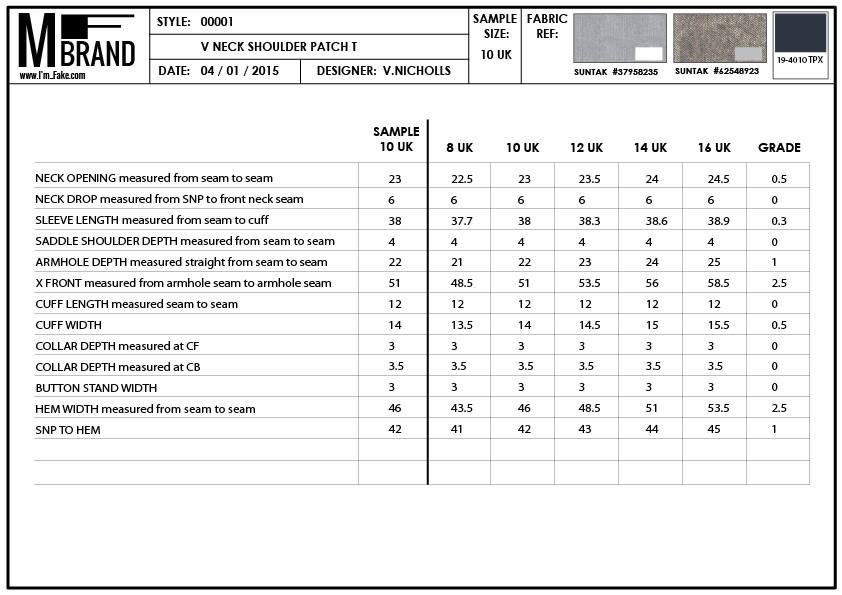 This is why it's really important that you spend some time getting the measurements right if you are doing them yourself, or hire a professional technical designer to do them for you. If your measurements are wrong in your sample size, which you use throughout the sampling process, then chances are that they will be wrong on all sizes.
As your garment is made bigger and smaller to fit different sized people, the design itself doesn't change, just the measurements. So to make sure that your garments are the same fit, shape and style on every size and customer, they have to be perfect.
Your Size Set helps you check that each one is just that, perfect. Throughout your sampling process, you will receive a sample at each stage and you'll have to take time to measure it and check the details yourself, if you don't have a QC or Garment Technologist working for you.
When you receive your Size Set, you'll need to do the same thing, but for the whole set of different samples. This can take some time, but it's important to spend that time looking at every size and checking every detail, to make sure that they are all perfect. If they aren't perfect, this will affect how happy your customers are with the design and fit of your product, which ultimately means how effective your design is in terms of sales and the repeat orders you will have long term.
WHEN DO YOU ASK FOR A SIZE SET?
The sampling process is quite a simple one, although there are a lot of details that can make a huge difference to how quickly and easily it can happen. If you're interested in learning more about it, you can check out another post called THE SAMPLING PROCESS-RETAIL STYLE, which has a fuller overview, or you can check out chapter 5 of the book How To Create Tech Packs for Fashion which goes into far more detail on the sampling process.
So as you go through your sampling process, you'll receive a sample from a factory in the sample size you ask for. At this stage, you'll basically check the measurements against your Tech Pack; do a fit session with your fit model, if you have one and then go back to the factory with any comments you have on how to improve the garment, for the next sample. The factory then looks at your comments and add these corrections to the next sample they make, constantly correcting and adjusting each time. Then send another sample and the process starts again.
This back and forth, continues until you are happy with the sample you receive. Then this final sample is accepted as being finished and ready for bulk production. So at this point, after you accept the final sample, and before you sign a contract for bulk production, you ask for a Size Set, to check each design per size.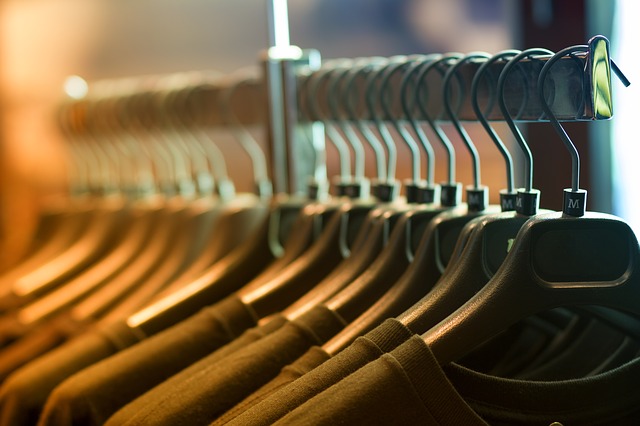 The Size Set should really be a formality. If you are happy with your product and the measurements given for each size are correct, then it should be a case of ticking off the measurements and details for all other sizes. If you have made any changes to your design, like measurements or details, throughout the sampling stage, then you will need to remember to update your Tech Pack and measurements for other sizes too. The factory needs the most updated information in order to make the sample and they will not make assumptions or corrections for you.
FINALLY….
So now that we've covered what a Size Set is, why you need one and when to ask for one, you should know all about Size Sets. But, a Size Set is just one step of the sampling process…. So I want you to take a few more action steps to help you with sampling and manufacturing, so that you have everything you need to produce garments easily.
[wc_fa icon="cogs" margin_left="" margin_right=""] Action Steps:
Your home work is really easy. Below is a list of additional blog posts that cover the sampling and manufacturing process, including the resources I have listed in this post too. Read through them to fill in the other gaps in the sampling process that this post doesn't cover. They will help you to be ready for sampling and dealing with factories.
P.S
Think someone would like this article? Don't forget to share with your friends and click the links below. if you want more information on building your fashion brand. Join our weekly Brand Building Email Family by clicking the image below.